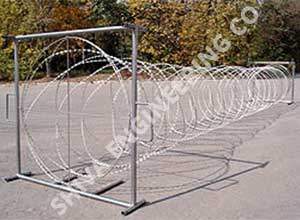 CONSEC®  RAPID MOBILE  Security Barrier: Effectively used by Police, Paramilitary & Defence Forces for Mob control & Anti-riot Fencing as it secures the place in a very short time of 3-5 mins
Mobile Razor Wire Security Barrier- Rapid deployment.
It is designed for rapid deployment of effective barriers during the police and other special operations, used in security or riot control. It is a serious obstacle to the entry of people and vehicles to any restricted zone. Mobile razor fence security barrier is packed in a container.
It is a re-usable mobile razor wire, enclosed in a specially designed lightweight cassette that provides the ability to quickly deploy, the collapse of the barrier, and its safe transportation. The mobile security barrier is designed for portability, expanding and collapsing with the calculation of just two people. Ease of assembly is ensured by special hooks. The ends of the coil fixed to the basket brackets. On handles attached a rope with hooks to secure the baskets.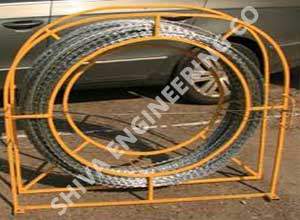 DO YOU NEED MORE INFORMATION?
Our Executive will instantly attend & respond to your inquiry.